The Bride Stripped Bare by her Bachelors, Even . . .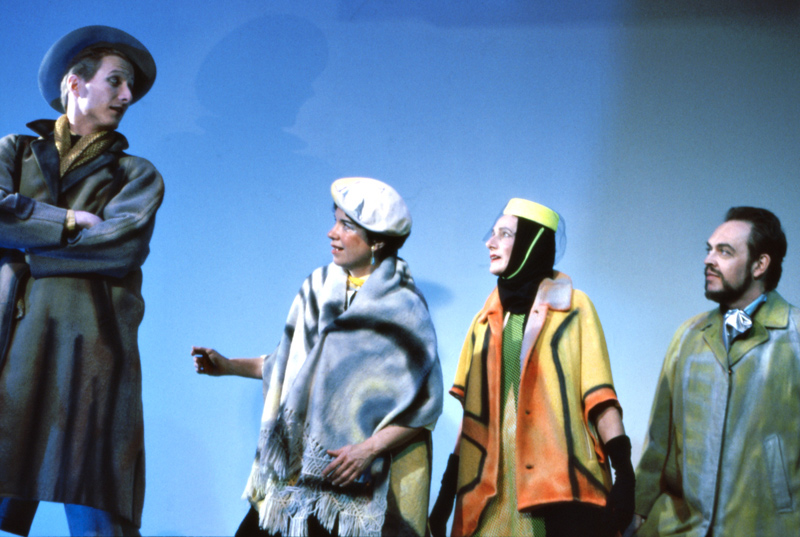 About the Opera
The Bride Stripped Bare By Her Bachelors, Even is a painting on glass begun by Marcel Duchamp in 1912, shortly after completing his notorious Nude Descending a Staircase, and left definitively incomplete in 1923. The painting is complemented by an extensive series of notes, jottings and sketches Duchamp produced over the same ten years—speculations on color, transparency, language, geometry, and art—written on scraps of paper which were published in facsimile in several installments: The Box of 1914, the Green Box of 1934, the White Box of 1967.
The pictorial machinations of The Large Glass (as the painting is known) are toward the sole function of making love, the notes describing a frustrated eros-machine, Bride above (sometimes as bride-motor, sometimes as "sex wasp"), Bachelors below. The bachelors are nine "malic" molds, hollow uniforms who secrete a gas which is channeled, filtered, splashed and focussed by a series of mechanical and optical procedures toward the Bride, readying her for the stripping which never, of course, takes place. The operations of the Bachelors are "slow, monotonous, dolorous, melancholy." The Bride is a motor, an internal combustion machine who transmits her desire to the Bachelors.
The work resists rational description and this is not a conventional opera, though it assumes the resources conventionally available to opera—soloists, chorus, orchestra, dance, the proscenium stage. The music, composed between 1969 and 1986, is an amalgam of conventional and unconventional notation, rhythmic and arhythmic phrases, tonal and non-tonal melody and sonority, and vocally- and instrumentally-dominated sections. Screen: Quartet No. 3 for 4-6 strings is a graphic score intended to be played either alone or superimposed on other sounds. The Five Pieces After Handler of Gravity were adapted for orchestra in 1975 from a work for organ. Sonata: Bachelor Machine is a long central ballet representing the mechanical workings of the bride and her bachelors.
Composer, Conductor
Composed by:

Charles Shere

Conducted by:

Marcello Panni

Assistant Conductor, Vocal coach:

Christopher Fulkerson
The Musicians
Commère, Headlight Child, and Sex Wasp:

Anna Carol Dudley and Judy Ruth Hubbell (1984)

Tenor, Heldentenor:

John Duykers (1984)

Compère:

Barney Jones (1984)

Five Nudes, Nine Malic Molds, Chorus:

Ariel Contemporary Vocal Ensemble directed by Christopher Fulkerson

The Bride Orchestra:

directed by Marcello Panni, Nathan Rubin, Concertmaster (1984)

Concert Pianist:

Eliane Lust (1994)
The Production
Choreographed, Designed and Directed by:

Margaret Fisher

Assistant Director:

Jocelyne Danchick (1994)

Performance Group:

MAFISHCO (1994)

Set Designs and Construction:

Jerry Carniglia (1984, 1994), Chris McFee (1994)

Bicycle Wheel:

Charles Shere

Chariot and Window:

Chris McFee

Chocolate Grinder and Falling Notes:

Mara Lena Corter

Malic Mold:

Jacqueline Humbert

Production Manager:

Larry Neff (1984), Vola Rubin (1994)

Lighting:

Nat Fast, Jim Quinn, Larry Neff (1984), Jack Carpenter (1994),

Audio Engineer:

Lisa Baro (1994)

Projections:

Nancy Berry, Tobin Keller (1984), Brenda Stine, Joe Speaks (1994)

Costumes:

Melody Beylik (1984),Cynthia DuVal (1986-1994)

Make-up:

Laurel Engel (1994)

Stage maquette:

Hank Bergeron (1984)

Documentation:

Violet Murakami (1984), Ted Helminski, Sara Roberts, Paul Lundhal, Bassem Elias (1994)

Production Team:

Andrew Smölle, Lynne Cameron, Eileen Amandes (1994)

Produced by:

International Performance Network (1984)

Producers:

Deborah O'Grady, Robin Kirck (1984)
Performance History
Workshop Performances:

Lisser Theater, Mills College, Oakland, CA, Nov. 27, Dec. 1, 5, 1984.

Excerpt:

San Francisco Museum of Modern Art, 1986.

Excerpt:

Center for the Performing Arts, University of California, Davis, CA, February 15, 1987.

Excerpt:

Mue Danse Festival, Musee de L'Art Contemporain, Montreal, Canada, March 10-12, 1989.

Revised: To be seen in and out of the light, even,

Bay Area Dance Series Festival, Laney College, Oakland CA, March 18-20, 1994.

Revised: Letters of Duchamp,

a dance-video work based on the 1994 dance-theater work.
Reviews
"Shere's 'Bride': Opera About Imagining,"

Robert Commanday, San Francisco Chronicle, December 3, 1984. "There are all kinds of ways of looking at opera, and we'll have them all before something really new and viable takes hold. Charles Shere's way is bold and uncompromising, as was seen in the premiere Saturday of his 'The BRIDE Stripped Bare by Her BACHELORS, Even,' at Mills College.... The four principals and chorus sing a text of free associating fragments Shere assembled from notes and jottings made by duchamp during the decade in which he was working on the painting.... Though extensively produced under Margaret Fisher's direction, this was called a 'workshop production.' The set Fisher designed featured a backdrop with a man's profile (Duchamp's) cut out of one side. Key words were occasionally projected on a camera-shaped set piece above the stage, out of the profile's mouth, and across a small corrugated screen.... The frequent chance music sections for the large chamber orchestra produced what [Shere] calls 'screens' of sounds, mostly soft but vibrant textures. Other accompaniments were fully composed, sometimes tonal and occasionally conventional, like one passage caricaturing military music. Over this varied, intentionally grab-bag continuity, the principals sang eminently vocal parts, the dominant factor. Shere wrote for the voices flatteringly and skillfully. The excellent principals who had an actual share in shaping their parts, produced and performed handsomely.... Marcello Panni, a new music specialist, on a visiting appointment at Mills, conducted and did an impressive job shaping Shere's score, guiding the players' interpretation and giving a secure and coherent performance.

"What I liked about 'The BRIDE Stripped Bare' was the open and unaggressive manner with which it offered itself to the audience for individual interpretation. This was avowedly a play of ambiguities, but its abstract, disconnected statements didn't seem doctrinaire and pompous, as such often do."



The Bride-motor,

Still from

To be seen in and out of the Light, even

(1994), a dance-theatre work variation on Shere's opera. Margaret Fisher, choreographer, performs the Bride. Publicity still, 1986.

Photo archive

MAFISHCO.




The Malic Molds (The Bachelors)

. Publicity still, 1986. From left to right, back row: Frank Ahrold, Jerry Neff, Bill Fontana, Tony Gnazzo, Jerry Carniglia, Judy Hubbell, Toyoji Tomita; left to right, front: John Thow, Larry London, Bob Hughes. Malic Mold, after Duchamp, constructed by Jacqueline Humbert.

Photo archive

MAFISHCO.




The Waiters, with Bottles of Benedictine.

Publicity still, 1986. From left to right, Barney Jones, Larry Neff, John Duykers. Chariot and Window, after Duchamp, constructed by Chris McFee.

Photo archive

MAFISHCO.




The Bachelor Must Grind His Chocolate Himself

. Publicity still, 1986. Bob Hughes (left) and John Duykers. The Chocolate Grinder, after Duchamp, constructed by Mara Lena Corter.

Photo archive

MAFISHCO.